AIFP "Advices in Ferrorelaxor Polymers"
About AIFP
After 40 years of scientific research at the French German Research Institute in Saint-Louis, France, Dr. F. Bauer has run Piézotech until 2010 (President of the Company). He was still scientific advisor of Piézotech until the 26th of February 2013. Advices In Ferrorelaxor Polymers, is the name of his company created in 1993, when F. Bauer have had to do advice Arkema/Piézotech people who bought Piézotech.

After this time, Dr. Bauer " free from any contract with Arkema" decided to continue his own company AIFP SAS "Advices in Ferrorelaxor Polymer", a simplified corporation, for working on high tech materials and specific development of fluorinated polymers and shock sensors in cooperation with ENSTA Bretagne, University of Mulhouse, Ecole Militaire de Bruxelles, ISL Saint-Louis, Pennsylvania University...
AIFP with his President can provide advices, process, preparation of prototype poled PVDF /P(VDF-TrFE) sensors, characterizations of these polymers, and unstretched or stretched films.
The scientific objectives and capabilities of AIFP are given here. 

Please look further through the scientific literature, some references are given. We can provide some more on request.
Working on high tech materials and specific development of fluorinated polymers and shock sensors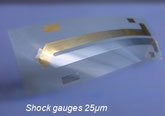 ---